Anna Morgan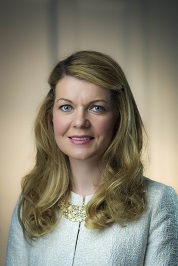 Anna Morgan is the Head of Legal and a Deputy Commissioner for Data Protection in the Irish Data Protection Commission, having been appointed in 2016.
Anna obtained her law degree from Trinity College Dublin and subsequently qualified as a solicitor in 2006. Anna worked in private legal practice for 10 years following qualification, specialising in regulatory and commercial litigation, most recently as a Senior Associate in Arthur Cox. Prior to Arthur Cox, Anna worked for Philip Lee Solicitors where a large part of her work involved advising the Data Protection Commissioner on enforcement issues, including acting as a solicitor-advocate in prosecutions taken in the District Court for breaches of the laws on electronic direct marketing.
In her current role, Anna was the lead rapporteur for the EDPB Guidelines on Transparency under the GDPR. Anna represents the DPC at Plenary and subgroup meetings of the EDPB and is the DPC's representative for the Key Provisions and Administrative Fines subgroups.
In addition to her role as Head of Legal at the Data Protection Commission, Anna also oversees the development of policy and guidance, including issues in relation to children's policy. Anna's team is responsible for the innovative public consultation run by the Data Protection Commission on the processing of children's data and the exercise of children's rights as data subjects during the first half of 2019.
Anna lectures on data protection at the Law Society of Ireland, the Honourable Society of King's Inns and has been a guest lecturer at Trinity College Dublin. She is a regular speaker at conferences on data protection and privacy. Anna is also a Registered Trade Mark Agent and holds Diplomas in Commercial Litigation and in Judicial Skills & Decision Making. She is listed in the Legal 500 General Counsel Powerlist for Ireland.